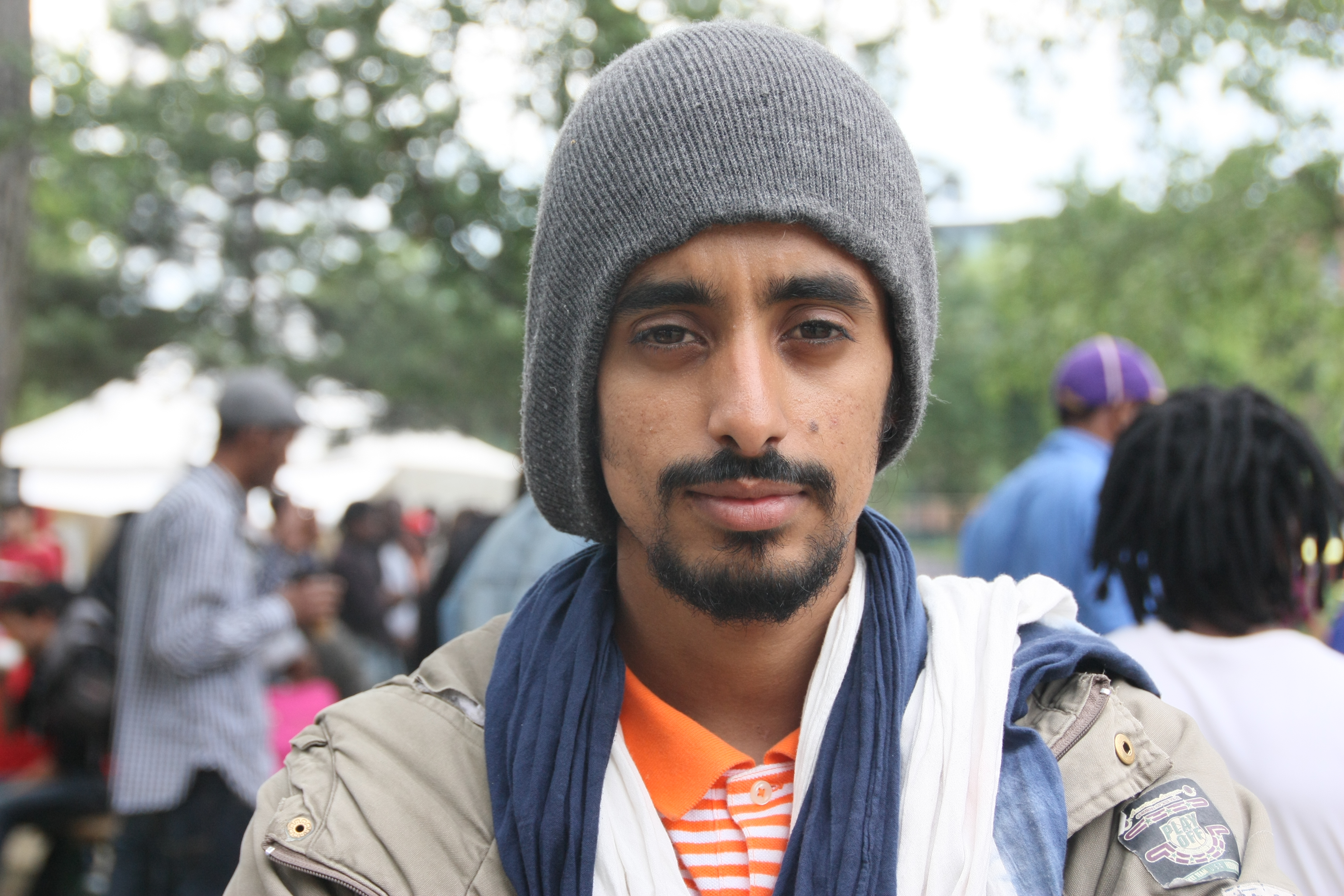 "El Mouthena
First thing I want is freedom of movement and the papers for all and rights like citizen in Europe for all the people. No Frontex for Citizen. Why is Frontex existing only for the refugees and migrants?
I don't care who you are and where you from, which color, which nationality you have, what I know what I care, we have same blood. And we are human beings. Nobody is more important than others. If you are any religion or any race or any are you must respect human being. Nobody going out of mother country because of nothing. He has something, if you wane help him, solve his problem first, after that ask him why he is here. Because if you ask something and you cannot help, better to not ask. What happened before is happened, now we are in the present and we fight for future. For that we are in tent camp in Brussels now. Different nationality and different colors and different problems. Refugees and immigrants. But we have same enemy. This message is from me to all brother and sister who are like me, to be strong and not give up until your get your rights. Nobody is stronger than others. It just government and the government is elected from citizens of countries where you are suffering. If you wane solve your problem you must mobilize those who select government. To stand up with you then you have power and can change something. And from today we must start working mobilizing in every country we are there, if you are refuge or migrant we don't care you are human like us. And we support you.
El Mouthena
We are here"
El Mouthena
La première chose que je veux, c'est la liberté de mouvement et les papiers pour tous et les droits comme citoyen en Europe pour toutes les personnes. Pas de Frontex pour Citizen. Pourquoi Frontex existe seulement pour les réfugiés et les migrants?
Je m'en fiche qui vous êtes et d'où vous venez, quelle couleur, quelle est la nationalité que vous avez, ce que je sais ce qui m'importe, nous avons le même sang. Et nous sommes des êtres humains. Personne n'est plus important que d'autres. N'importe de quelle religion ou de race ou d'être vous êtes, vous devez respecter l'être humain. Personne ne quitte son pays natal à cause de rien. Il a quelque chose, si vous voulez l'aider, il faut d'abord résoudre son problème, après demande lui pourquoi il est ici. Parce que si vous demandez quelque chose et vous ne pouvez pas aider, mieux de ne pas demander. Ce qui s'est passé avant est passé, nous sommes maintenant dans le présent et nous nous battons pour l'avenir. C'est pour ça que nous sommes dans ce camp de tentes à Bruxelles aujourd'hui. Des différentes nationalités et différentes couleurs et différents problèmes. Les réfugiés et les immigrants. Mais nous avons le même ennemi. Ce message de moi est à tous mes frères et sœurs qui sont comme moi, d'être fort et de ne pas abandonner jusqu'à ce que vous obteniez vos droits. Personne n'est plus fort que les autres. C'est juste un gouvernement et le gouvernement est élu par les citoyens des pays où vous souffrez. Si vous voulez résoudre votre problème, vous devez mobiliser ceux qui choisissent ce gouvernement. Pour se lever avec vous, alors vous avez le pouvoir et vous pouvez changer quelque chose. Et à partir d'aujourd'hui, nous devons commencer à travailler à la mobilisation dans chaque pays, nous sommes là, que vous êtes refugies ou migrant on s'en fiche, vous êtes humain comme nous. Et nous vous soutenons.
El Mouthena
Nous sommes ici