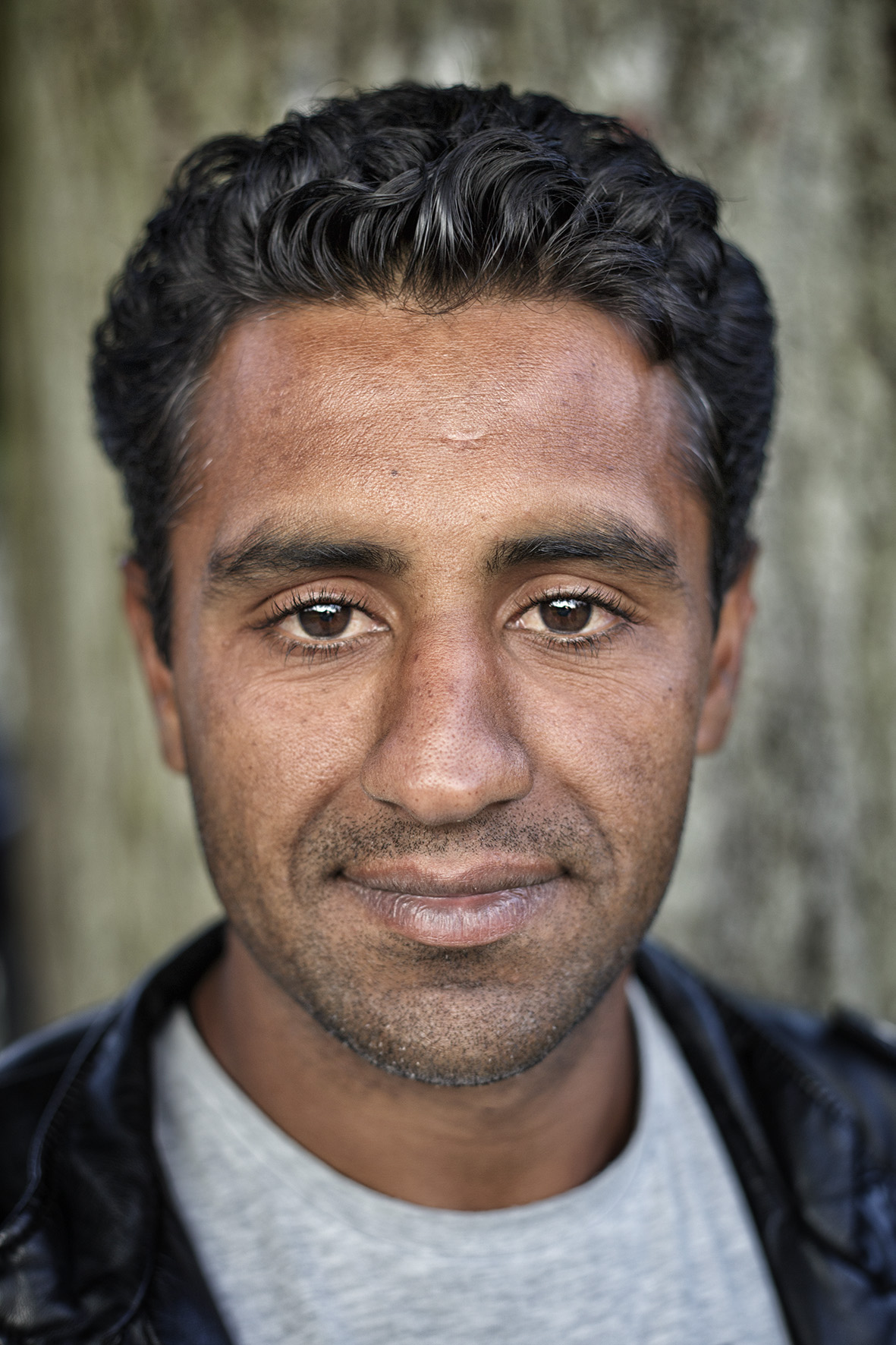 "I want to say about me why we come here. We have too much problems in our countries. I spend my live in problems. I come here in Germany, there are creating too much problems for us. We apply to asylum here and I'm also sick I have a big Illness. I Have Hepatitis C and there is no treatment. I waste one year in Germany and all the doctors are saying they don't wane help me. And after they are give me big problems. They want to deport me in Hungary, there they have my fingerprints. I wanna ask them why to do that with me? They have waste my one year. I think my older live is going with problems. You thing about us. We are also humans like you, but you don't wane see us. So that's why we are going to the long march for freedom. I think it is better for our future."
Je veux dire sur moi pourquoi on vient ici. Nous avons trop de problèmes dans nos pays. J'ai passe ma vie dans les problèmes. Je viens ici en Allemagne, ils créent trop de problèmes pour nous. Nous demandons l'asile et je suis aussi malade, j'ai une grande maladie. J'ai la Hépatites C et il n y a pas de traitement. J'ai gaspillé un an en Allemagne et tous les Docteures m'ont dit qu'ils ne veulent pas m'aider . Et après ils m'ont fait des grands problèmes. Ils veulent me déporter en Hongrois, la-bas ils ont mes empreintes digitales. Je veut leurs demander, pourquoi vous faite ça avec moi? Ils ont gaspille mon année. Je pense que ma vielle vie est plein de problèmes. Pensez a nous. Nous sommes des humains comme vous, mais vous ne voulez pas nous voire. C'est pour ça qu'on vas a la longe marche pour la liberté. Je pense que c'est mieux pour le future.
Ich möchte über mich reden, wieso wir hierher kommen. Wir haben zu viele Probleme in unseren Ländern. Ich verbringe mein Leben in Problemen. Ich komme nach Deutschland, sie erzeugen zu viele Schwierigkeiten für uns. Wir beantragen hier Asyl und ich bin zudem krank, ich habe eine schwere Krankheit. Ich habe Hepatitis C und es gibt keine Behandlung. Ich vergeudete ein Jahr in Deutschland und alle Ärzte sagen mir, dass sie mir nicht helfen wollen. Und danach verschafften sie mir große Probleme. Sie wollen mich nach Ungarn abschieben, dort haben sie meine Fingerabdrücke. Ich will sie fragen, warum sie das mit mir tun? Sie haben mein Jahr vergeudet. Ich denke mein älteres Leben verläuft mit Problemen. Ihr denkt über uns. Wir sind auch Menschen wie ihr, aber ihr wollt uns nicht sehen. Deswegen gehen wir den langen Marsch für die Freiheit. Ich denke, dass ist besser für unsere Zukunft.